Passion for Ponies
Here at The Little Pony Club we have a passion for Shetland ponies, as they are so full of character and a sense of fun. We believe that through riding and caring for our Shetland ponies, children are learning lifelong skills of responsibility, initiative and are being challenged in a non-competitive environment.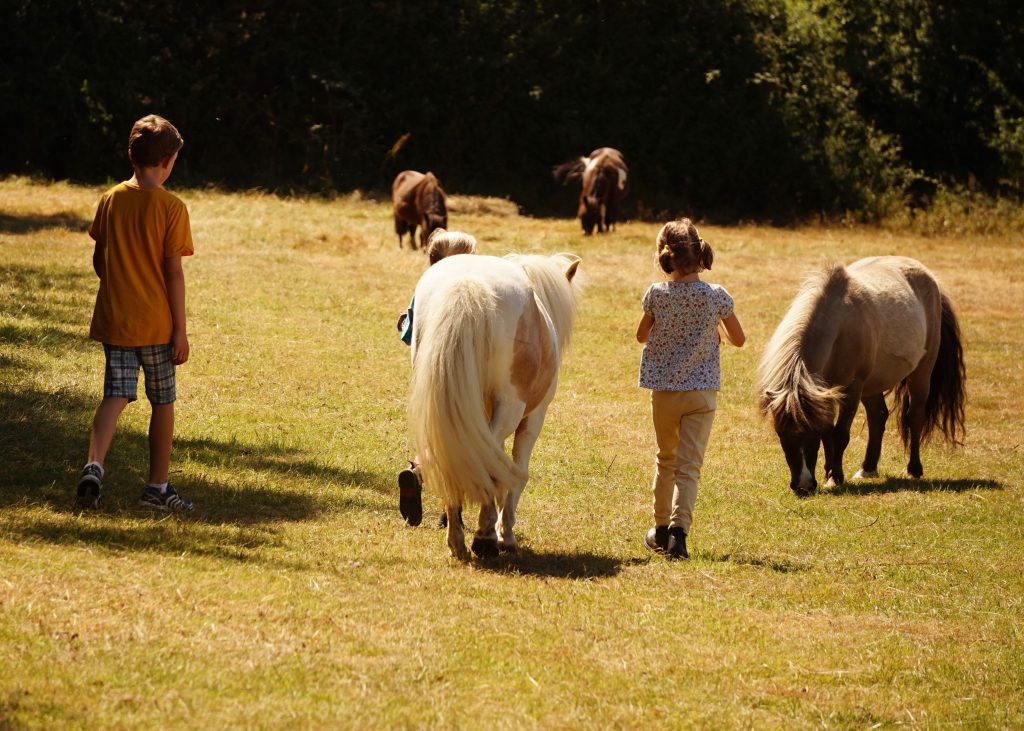 ---
Passion for Nature
The Little Pony Club is set in 17 acres of fields and woodland in the Berkshire countryside. Having children ourselves, we feel that learning about the natural world and how to take care of it is vitally important for our little people. We believe that hands-on learning in an outdoor environment enables children to develop positive relationships with themselves and with other people.
The Little Pony Club has been founded on the following aims and core values:
---
Our Aims
To provide a fun and yet valuable learning experience within a safe, secure and inclusive setting.
To give children hands-on experience in all aspects of riding and pony-care.
To help children develop positive relationships with the natural world.
The opportunity to achieve and develop confidence through hands-on learning experiences. We believe that children should experience regular success to help build their confidence and self-esteem.
To encourage children to develop positive relationships with themselves and with other people.
---
Our Values
Responsibility  – Towards animals and the environment.
Respect –  For others, for animals and the natural world.
Kindness – For all.
Having a fun, safe and caring environment is fundamental to our way of working. Our team are fully trained and passionate about the work they do, we are fully insured, registered, licensed and hold paediatric first aid training.
---
Working for us
At The Little Pony Club we are passionate about learning, building confidence and having fun.
We currently have opportunities for weekend and school holidays.
If you love the outdoors, being with children and ponies then we could be just the team to join.  If you are aged 13+, hardworking, eager to learn, great with children and animals then please contact us at karan.dawson@thelittleponyclub.co.uk to let us know why you would be great for our super team.
---
Contact Us
Click here to see how to contact us
---
Opening times
Our rides are by appointment only so don't miss out, call or book online today.
We are open:
Friday mornings 10am – 11.30am.
Saturday & Sunday 9am – 3pm.
School holidays for camps as posted on our website, 9.30am – 4pm.
---
Book Now
---
FAQ
What should my child wear?
Riding clothes are not required but if you have them, great, otherwise leggings/comfortable trousers with trainers or boots.  In the summer, leggings and a short-sleeved T-shirt (strappy tops and shorts are not very comfortable when riding).
Does my child need their own hat and boots?
As safety is imperative to us, we provide safety helmets in a range of sizes, all with the latest CE safety standard.  Wellies are advisable during the muddy season.
Are you open all year round?
Yes we are, we aim to get out and have fun in all but the very worst weather. We will advise what is best to wear on very hot summer days and on very cold winter days.  If the weather does stop us getting outside, we bring one of our gorgeous ponies into the Little Barn and have fun learning in the warm.
What are your opening times?
We are open Friday morning from 10am – 11.30am.
Saturday and Sunday 9am – 3pm.
School holidays for camps as posted on our website, 9.30am – 4pm.
Do lessons still happen in bad weather?
Yes, they do. We aim to always wrap up warm and get outside for some of the lesson, it is only the very worst weather (Shetland Island weather) that keeps us in the Little Barn.
Can I watch my child's lesson?
Of course. For children 5 years and over you are very welcome to stay and watch your child.  You can watch from The Little Barn or Barnyard or come for a walk with us, alternatively you are welcome to drop your child off with us and return for their presentation.  If your child is under 5 years old we will ask that you stay at The Little Pony Club for the duration of their fun.
Are your ponies well cared for?
We take pony welfare extremely seriously − our ponies are loved as part of our family.  We ensure our ponies get regular visits from the dentist, farrier and vet to ensure they are 100% healthy.  Your child will learn all about Shetland pony welfare during their sessions with us.
What age children can ride with you?
To ensure we comply with our insurance policy, children can ride with us from 2 ½ years old.
How much are your lessons and how can I pay?
Click here to view our activities. Payments are made online when you book your child's lesson or you can call and make payment over the phone.
Do you have anywhere indoors I can wait during my child's lesson?
The Little Barn is the perfect place to wait, we have tea and coffee on the go, you can catch up with other parents or your emails.  During the colder months, we keep you warm with the log burner.
Are your staff all CRB/DBS checked?
Our adult staff are fully CRB/DBS checked.
Do you have a registered first aider?
We have a paediatric first aider on site at all times.
Is there a car park?
Yes, we have a car park accessed via Mire Lane. We ask you to drive along  Mire Lane and park within the designated car park. Click here to see a map of where we are.
What happens if I need to cancel?
We understand plans sometimes need to be re-arranged. If you call or email, we will do everything we can to get your child a space on the next convenient lesson.  We do ask for 48 hours notice as this gives children on our waiting list an opportunity to have a ride.  Cancellations with up to 48 hours notice are fully refundable.
Do you sell gift vouchers?
We have fabulous gift vouchers for all pony activities including camps and birthday parties.  These make perfect gifts, for more information please click here to contact us.

Can my child ride and join in if they have allergies?
During your first visit to us we will ask you to fill in a form about your child, with any known allergies. Dependent on the allergy, we may ask you to remain at The Little Pony Club for the duration of your child's session. Please do feel free to contact us to discuss your child. We aim to do all we can to be inclusive for all children.
My child has a disability, can they ride or join in?
We aim to be inclusive for all children. Please contact us to discuss your child's needs and to ensure we have appropriate staffing levels to support them.